New Canaan, CT    –    November 4, 2016
The CT CHEAPR program (short for Connecticut Hydrogen and Electric Automobile Purchase Rebate) has been accelerating the adaption rate of Electric Vehicles by Connecticut drivers.  As of today, this pilot program has enough funds remaining to reward about 85 Electric Vehicle purchasers – which at the current sales rate is about 30-45 days of sales in Connecticut.
With plenty of political uncertainty in both Connecticut and the nation, consumers who are considering the purchase or lease of a new plug-in electric vehicle would be wise to act soon before the CHEAPR fund is exhausted.
Here is a look at total CHEAPR rebates paid to date:

Looking back over time, here is a breakdown of rebate claims by month:

Looking at the state of Connecticut, here is a map showing rebates claimed by zip code. Note the color coded key to the map – the darker the shade, the higher the density of rebates claimed in that zip code: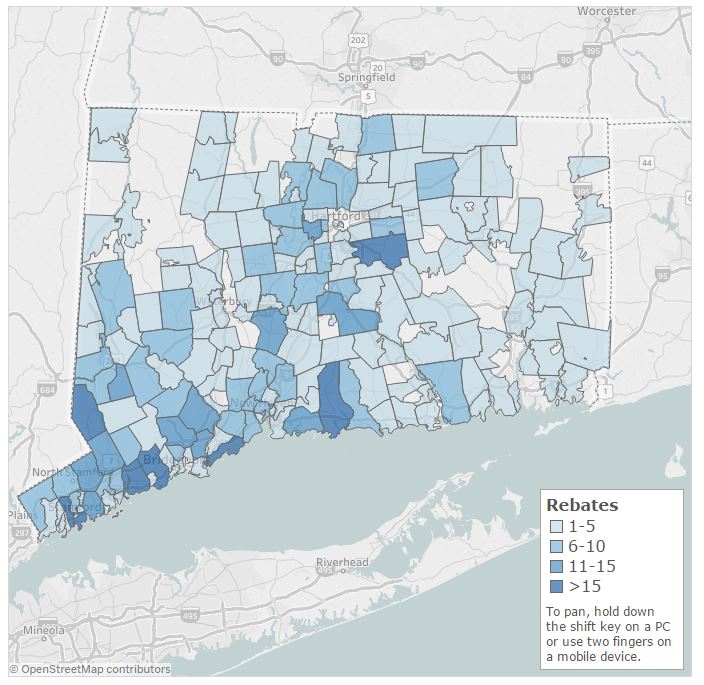 Taking a look around Fairfield County, the breakdown is as follows:
43 rebates paid to Stamford residents
32 rebates paid to Fairfield residents
29 rebates paid to Norwalk residents
17 rebates paid to Westport residents
16 rebates paid to Ridgefield residents
13 rebates paid to New Canaan residents
13 rebates paid to Greenwich residents
12 rebates paid to Wilton residents
11 rebates paid to Darien residents
10 rebates paid to Weston residents
There are a wide range of qualifying vehicles that Connecticut consumers can purchase or lease that qualify for the CHEAPR rebate.  Looking at a breakdown by model, the clear vehicle of choice among CT residents is the Chevrolet Volt…..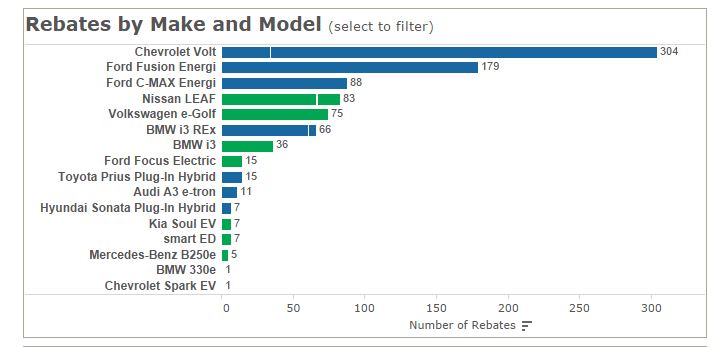 As more and more Connecticut drivers experience the benefits of driving electric, these sales trends will continue to move upward.  Back in October of 2013, Connecticut joined with 9 other states to form a coalition that has adapted California's vehicle emissions rules, which include a mandate that 15% of all vehicles sold by the year 2015 must be Zero-Emission Vehicles.   Thus, these states have become known as the ZEV states.
ZEV vehicles include plug-in Electric Vehicles, Fuel Cell Vehicles, and other alternate sources of propulsion.  In the coming years, Connecticut consumers will see an increasing variety of transportation choices and those consumers who elect to become a trend setter or early adapter of a zero-emission vehicle will be rewarded.  The time is now to take advantage of the significant savings offered by the CT CHEAPR program.
A modern, efficient plug-in EV may be much more affordable than you think!  Take time to learn more today by visiting the EV experts at Karl Chevrolet in New Canaan, where you'll find the best selling Chevy Volt Extended Range Electric Vehicle and the all new 238 mile range Chevy Bolt EV.