New Canaan, CT  –  April 20, 2017
The Westport Electric Car Club will be holding its 5th annual Electric Car Rally, a 35-40 mile event, on Sunday, May 7, 2017.   Karl Chevrolet is proud to return as a sponsor of this fun, family friendly event, and is excited to have the all-new Chevy Bolt EV on hand for all to see  and test drive for those who are interested.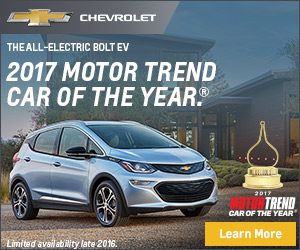 With a range of 238 miles per charge, the Bolt EV is the long range Electric Vehicle within financial reach of anyone.  Starting at $37,495, the Chevy Bolt EV can be purchased by CT residents for a net cost of just $26,995 after factoring in the Connecticut CHEAPR rebate of $3,000 and the Federal EV Tax Credit of $7,500.  Pricing for the top-of-the-line Bolt EV Premier model runs approximately $5,000 more.
Past Westport EV rallies have seen many of the newer EVs, such as last year with the Tesla Model X and the second generation Chevrolet Volt.  This year the rally will feature the Chevy Bolt EV, one of the first to be seen in CT, courtesy of Karl Chevrolet of New Canaan. The Bolt is the first entry in the segment of long-range, fully electric vehicles at a mid-market price point.
An expanded program this year also includes electric bicycles. The WECC has partnered with Pedego Electric Bikes of Norwalk to create a separate rally course for riders of electric bicycles. If anyone is interested in participating in the rally to check out an electric bike, there are bikes being made available for rent.
Rally Details:
Rally start and finish location is the Westport/Saugatuck Metro-North Train Depot parking lot, New Haven-bound side.
Registration/check-in/driver instructions/continental breakfast is at 10:00 AM
Rally begins at 11:00 AM
Rally concludes at 1:00 PM
$50 entry fee for both cars and bikes
Bike rentals available for $25. Call Pedego at (203) 354-9333to reserve one.
A rally course is being developed by our rally master that winds through the back roads of Fairfield County. The course will only be disclosed to the drivers at registration. The WECC continues its partnership with the Wilton Go Green Festival held at the Wilton Town Green, where there will be a mid-rally stop.
EV rally drivers are required to have a navigator. If anyone is interested in driving but needs a navigator, please contact the club and we will find one for you. Email the club atWestportElectricCarClub@gmail.com
Having driven in several previous Westport EV rallies, Karl Chevrolet President Leo Karl III commented, "this is really a great community event that brings together folks of all ages who appreciate the combination of new technology and a cleaner, more sustainable way of life.  The new electric vehicles on the market today are really remarkable to drive and amazingly efficient.  I encourage anyone who is even just curious to come out and check in on the fun."
Electric bikes will have a separate, shorter course.
"Walk-up" registrations the morning of the rally are accepted, however, the club encourages people to register in advance as it helps for planning.
This is a rally, not a race. Speed isn't a factor.
Spectators are welcome to view EVs before or after the rally. Test drives will be available after the rally.
"Pedego Electric Bicycles is excited to partner with the Westport Electric Car Club in their new expanded format," said Mike Heslin of Pedego. "Electric bikes are perfect for recreation, fitness, or local commuting for people who want to extend their range or need a little assistance with challenging terrain. The compact battery is there when you need it to provide an emission-free boost."
The EV part of the rally is for plug-in vehicles, whether fully electric or plug-in hybrid. It is not necessary to be a member of the club or a resident of Westport to participate. All EV drivers are welcome!  The entry form can be found on the club website.
WECC president, Leo Cirino, says, "EV sales have continued to increase despite a prolonged period of low gasoline prices. Sales of plug-in vehicles in 2016 were 37% higher than 2015. The momentum has accelerated in the new year as first quarter 2017 sales were up 46% over the same period last year. Manufacturers continue to introduce new plug-in models. We are seeing announcements and introductions of plug-in versions of larger SUV and crossover models that are among the most popular with the public. Advances in battery chemistry continue to lower costs and enable improved range. This year sees the national rollout of the first two cars in the segment of affordably priced, long-range battery EVs, namely the Chevy Bolt and Tesla Model 3.
"We know from our interaction with the public that awareness of the variety of models is still pretty low and our rally helps to get the word out that there are many options for stylish and fun-to-drive EVs.
"Finally, we appreciate the support we receive from the Town of Westport, including the Selectman's office and the police department. Second Selectman Avi Kaner will be kicking off this year's rally."
Westport currently has 19 (count 'em!) public charging stations, located at both Metro-North depots, the library, town hall, and the downtown parking area adjacent to the Tri-Town Teachers Credit Union. All are free (subject to parking regs at the train stations). Many are solar-powered with arrays having been installed at the Saugatuck Train Station and the credit union."
For more information, please email WestportElectricCarClub@gmail.com or seeWestportElectricCarClub.com